Welcome to Liz Mitchell Designs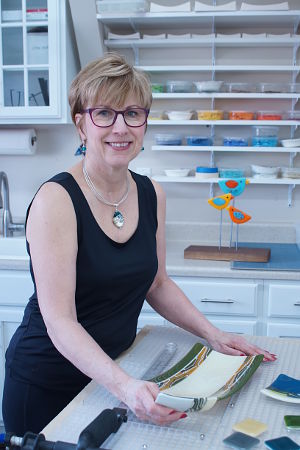 Hello and welcome! I'm Liz Mitchell, a glass artist who lives in North Carolina where I work out of my home studio. I've been hooked on glass since a weekend bead making class in 2003. What started out as a fun weekend class has turned into a full-time career. For me, life is like a game of dominoes with one thing leading to another.
That first bead class led to another and then another and so on. Not content with waiting for class, I wanted my own torch and kiln. A big thank you to my husband, kids, and dad who purchased said equipment for my 50 th birthday. After more classes and much more practice I applied to my first juried craft show to which I was accepted. Woo Hoo! Getting into that show, which by the way was the Peters Valley Craft Fair, led to my using my beads in jewelry. The rest is history. I've been making and selling my beads and jewelry on the eastern seaboard primarily at juried arts and craft shows since 2006.
Life goes on and with it the inevitable changes. Like many artists I wanted to explore new techniques in glass and work on larger pieces, which of course involved taking more classes. I took a fused glass involving pattern bars (more on that in another blog) which I really enjoyed.
In a repeat of dominoes, there were more classes to take, more equipment and glass to purchase, and changes to my studio. Fused glass provides a different experience for me than making beads. It requires more planning and much, much more time in the kiln, as well as more steps to having a completed piece.
I am introducing my fused glass on this new website! As of now it's more of a sneak peak at what I've been doing, however I anticipate pieces being for sale in the near future. I'll be using this blog to share what is happening in my world of glass, the good, the bad, and the "oh crap". Please join me on this ride, and please fasten your seat belt, it may get bumpy!