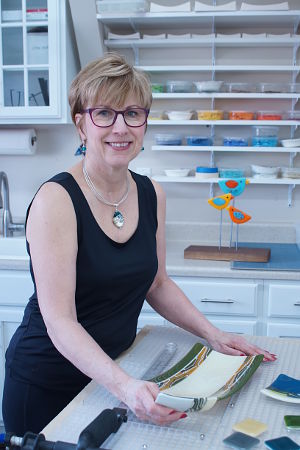 I create for the sheer pleasure of being creative. I enjoy the whole process – from the initial vision, through making the piece, to the completion.
Glass is my medium of choice – I'm fascinated by the brilliant colors and how they interact with light. Its structural nature lends itself to many techniques and effects. My love affair with glass began in 2003 after a weekend bead making class. Watching glass melt was mesmerizing. Creating jewelry became a natural evolution for me. I have derived much pleasure developing my own technique and style. Every piece is finished with high quality sterling and Argentium silver findings. Made with a touch of germanium, Argentium® Silver is extremely slow to tarnish under most conditions.
As I progress in the art of jewelry making I find myself driven to create larger pieces in glass. Fused glass is satisfying that drive. It is a technique that gives me a broader canvas, so to speak, in surface area and depth. It is an entirely different approach to glass than making beads and learning has been a source of joy, challenge, and stimulation. I am especially intrigued by pattern bars which are featured in much of my work.
A few of my fused glass pieces have been included on the site to give you a sneak peek at what's ahead and I really look forward to adding more over the next few months. I work in my home studio near Raleigh, NC, where I spend my time making beads and fused glass. I invite you to join me on my fused glass journey as I share my learnings on my blog. As always, I want my art to bring pleasure and beauty to people's lives.